How efficiently are your employees guiding customers through the sales cycle? Are there gaping holes in your company's sales process? At what point could potential revenue be falling through the cracks?
These are the questions that bedevil any organization that's grown large enough to expand its sales team beyond a couple of individuals managing the deal cycle from end to end. Once they're large enough, ambitious organizations typically separate customer prospecting and qualifying activities from those associated with nurturing, closing, and onboarding. The separation of responsibilities can make it easy to lose track of customers being transitioned through the pipeline–and difficult to pinpoint what may be going wrong, and why.
To ensure they can offer a consistent customer experience while optimizing their return on investment in customer acquisition, organizations need clear operational processes around the handoff of prospects from sales development representatives (SDRs) to their account executive (AE) colleagues.
But what does that hand-off look like? How should it be managed?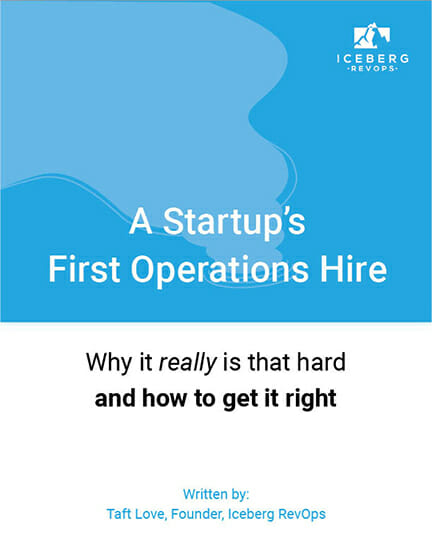 Don't Hire for a RevOps Role Before Reading This Guide
When you're ready to hire in-house for operations, what should you look for? What combination of skills will make the biggest impact? How can you make a smart hire today and support a long-term hiring strategy? This white paper steps through:
Categories for a first operations hire
Recommended interview questions
The exact evaluation matrix Iceberg uses to hire for its own team
Key Challenges in the SDR to AE Handoff Process
Seamless coordination between SDRs and AEs is critical to meeting revenue goals. After all, AEs can't close sales unless SDRs provide a constant flow of qualified leads for them to work with. But achieving seamless coordination is easier said than done, and poses significant challenges to organizations.
Visibility
A lack of visibility into the steps in the sales process makes it difficult for organizations to identify and remediate problems in the SDR AE handoff. Given that what can't be seen can't be optimized or even measured, a lack of visibility also means organizations can't evaluate employee performance or set realistic revenue goals.
Accountability
When the proverbial ball is dropped, who is responsible? Without operational processes and reliable tracking that produces accurate data, issues with the handoff are hard to pin down.
For example, if an SDR is consistently providing qualified leads and an AE is habitually neglecting to follow up, the sales manager must be able to learn of the problem, identify the source, and take appropriate action. Equally, if the quality of the leads is the cause of the problem, the SDR should be held accountable.
Continuity
Ensuring the consistency and continuity of customer communications along the sales funnel is a significant challenge for organizations. The solution is a well-defined process that specifies both the customer details to be captured by SDRs and how that information will flow to AEs.
To ease the sales process, organizations also need to provide for capture of salient information gleaned by SDRs during preliminary conversations or interactions with a prospect. Having access to that kind of information can only enhance the customer's experience since it means they won't have to repeat themselves. Gathering this data may be as simple as adding a few discovery-focused fields to a CRM. Alternatively, organizations may use a dedicated solution such as Dooly.
Keeping track of the sales funnel
Meaningful measurement and reporting on sales activities rely on creating simple systems that make it easy for sales personnel to document prospect interactions and facilitate accurate reporting for management. As far as possible, status updates should be automated using sales engagement tools that move prospects to different stages in response to specific actions.
An SDR to AE Handoff Workflow
We've developed a series of templates that solve for the problems our clients experience in designing efficient processes to track, measure, and report on sales activities. The documented processes are highly flexible and can be tweaked to accommodate specific client needs.
The graphic below, for example, shows (in broad schematic format) the meeting tracker set up in Salesforce to facilitate the SDR AE handoff and provide the data required to answer questions such as:
How many meetings did we set last week/month/quarter?
How many of those meetings were qualified and became opportunities?
How many meetings were no shows or showed up but were unqualified?

When a meeting is set, an SDR creates an opportunity in stage 0 using the opportunity object in Salesforce to memorialize that the meeting is supposed to happen.
If the meeting takes place and the prospect is qualified, the opportunity moves to stage 1 and is labeled a held meeting.
In the case of a no-show, the meeting is labeled as such and reassigned to the SDR for rescheduling. The process then starts again.
If the meeting takes place but the prospect is disqualified, the opportunity is set at close lost and the loss reason shown as disqualified.
The no-show and disqualified options may only be selected when the opportunity is set to stage 1.
Related content: how to effectively manage lead status in Salesforce
FAQs
What's the role of an SDR in the sales cycle?
While terminology varies within organizations, a Sales Development Representative (SDR) responds to and qualifies prospective clients who have engaged with a company's marketing efforts or enquired directly about product and service offerings.
What's the difference between an SDR and a BDR?
Because terminology varies within organizations, the terms SDR and BDR may denote two different aspects of the customer acquisition process, or they may be used interchangeably. In some organizations, a single position may cover both responsibility areas and/or be referred to as an XDR. 
How do SDRs and AEs work together?
SDRs and AEs work hand-in-glove to produce the sales needed to meet an organization's revenue goals. As the first members of a sales team to interact with prospects, SDRs ensure they are qualified before referring them to AEs. In turn, AE's are responsible for creating relationships with qualified leads and turning them into paying customers. The two roles are equally important since AEs cannot close sales unless SDRs provide a constant flow of qualified leads for them to work with.
On average how many Sales Qualified Leads (SQLs) per month can a dedicated AE handle efficiently?
The calculation depends on several factors, including the length of your sales cycle, the number of stakeholders in a typical deal, the complexity of the product or service that you're selling, and how often your AE should expect to reach out to the prospect.
As a rule of thumb, an AE can likely handle 10-15 small deals and 5-10 large deals at the same time without dropping the ball.
How do B2B companies manage the SDR follow-up process for inbound inquiries?
B2B companies often invite inquiries online. This may happen via website forms or through an online chat window. Once SDRs get these inquiries they respond to the prospect as quickly as possible. Prospects who meet the organizational requirements for qualification are passed on to AEs who will then start a conversation with them.
In B2B SaaS sales, what's an average close ratio for SDR-generated leads?
Unlock the Insights and Data you Need to Professionalize your Sales Operations
We help scaling B2B companies whip their sales operations into shape so they can stop firefighting and focus on optimizing their sales funnel with data-driven insights.
Check out our case studies to see how we've helped companies just like yours.
More Sales Operations Content