You're here because you know that implementing the right systems is a critical element of scaling your company.
Here's how to start:
Don't start with systems.
It's a catch-22, right?
​​Yes, systems are important.
Yes, having the right tools can help you scale and automate your processes.
But if you start by focusing on your tools and systems, you aren't starting with a goal in mind.
Whether you're a small startup founder building your first GTM motion or a seasoned operations leader running a large team, starting with the end in mind is critical.
Implementing a tool is never the goal, though some teams treat it that way.
If you focus too early on tools and systems, you're probably going to create more problems than you solve.
This can lead to what we call "tool creep."
It's one of the worst things killing the effectiveness of your revenue operations as you end up having various tools that are all solving similar or identical problems.
It's a waste of budget and frustrating for your teams who soon find themselves drowning in data.
So, even though this article is about the product-led growth stack that can help you scale your B2B company, remember that choosing tech tools is never where you start.
You should start by filling in the blanks of this question:
"This project will be a success when _______."
Here's an example that may resonate with startup leaders with plans to combine a PLG motion and a sales team: "This project will be a success when at least 30% of the leads assigned to sales become Stage 1 opportunities. That will require that the sales team is only assigned leads that we have programmatically identified as likely to buy or in need of assistance from a human to move forward with a purchase."
Start there and then work backward.
Identify gaps along the way.
Figure out what it's going to take to plug those gaps. Often tools are pretty far along into this conversation and discovery process.
If you already have an answer to the above, then read on.
If you don't, reach out to us for a free consultation. As RevOps consultants we do more than implement tools. We also help our clients make the right strategic decisions as they scale – just like a qualified in-house RevOps team..
What Makes a PLG Growth Stack Different?
Here's a secret: a PLG growth stack will be 90% the same as a traditional sales-led stack.
But that 10% difference makes a massive impact on sales.
A PLG tech stack is made up of the tools that arm your sales team with product data so they spend more time on highly qualified PQLs/PQAs and less time chasing unqualified prospects and doing labor-intensive research associated with the standard sales-led qualifying process.
Done right, Product-Led Sales (PLS) sparks meaningful conversations earlier in the sales cycle. Customers have already used the product. In a sense, the product itself nurtures the leads.
The sales team needs an easy way to understand when and how to engage customers already using a product. A PLS tech stack should have tools in place that capture behavioral data from a product and prescribe next steps for the sales team, while automating these as much as possible.
| | | |
| --- | --- | --- |
| Platform | Traditional Sales Stack | PLG Stack |
| CRM (HubSpot, Salesforce etc.) | ✅ | ✅ |
| Marketing Automation Platform (HubSpot, Outreach.io, Marketo) | ✅ | ✅ |
| Sales Engagement (Salesloft, Outreach.io, Groove) | ✅ | ✅ |
| Sales Enablement (HubSpot, Guru, Seismic) | ✅ | ✅ |
| Product Analytics (Mixpanel) | ❌ | ✅ |
| Scoring (MadKudu) | ❌ | ✅ |
Companies listed above are examples, not endorsements.
As you can see, the difference between a PLG and PLS stack is small but important. PLS requires an extra layer of analytics to determine how user behavior should drive the efforts of your sales team.
The Full Version of the Product-Led Growth Stack
If you're going for a full audit of what should be in your stack, what's listed above  is a good place to start. Having said that, we can't prescribe a specific stack without knowing your business, your goals, and the systems you've already got in place. These are just ideas to help get you started. If you'd rather get our MVP stack, jump to this section. 
Bear in mind that the products mentioned below can span a few different categories. Many provide all-in-one solutions that give you a range of features to leverage across Marketing, Product, Sales, and Customer Success.
Customer-Relationship Management (CRM) Software
You have so many touch- and data-points with your customers that it can be hard to keep track of them all across many tools. A CRM centralizes all of this data, giving you a 360° view of each customer and account.
Salesforce is an undisputed leader in the CRM space and provides one of the most all-inclusive solutions for your CRM needs. It's highly customizable which is a bonus for larger/enterprise companies who have very specific requirements to implement all the customization they need.
If you plan to scale your sales program, or have unique needs that require custom reporting or automations, Salesforce is the best bet. While Salesforce is more difficult to learn and manage than HubSpot, it has far superior declarative functionality already in place. It's possible to do a lot in Salesforce without writing any code.
Salesforce can get complex.
There are a lot of great contractors who can handle the technical implementations of your Salesforce instance, but relying on only them is like hiring a plumber to build your whole house.
You need to hire not just a great technical expert, but a team who can see the bigger picture. If you've hired someone who always responds to your requests with, "you got it!", then you've got a problem.
Make sure you've investing in a seasoned Salesforce expert or team who can handle both technical implementation and strategic vision.
HubSpot can be a much safer option for companies who are scaling, but wondering if it's too early to invest in Salesforce.
HubSpot CRM is a great choice for small companies who don't need to heavily customize their CRM or build complex reporting. But many companies quickly run into limitations that require customization. And while HubSpot can be heavily customized, development is often costly and labor intensive.
While HubSpot is the cheaper alternative to Salesforce early on, costs can rise quickly.
"The costs are steep and the tiers aren't straight forward," says Dan Malone, Founder of web development agency Mawla. I could see it being a bitter pill going to the next tier for just one feature so I understand why people would graduate away from it and go to Salesforce."
Marketing Automation Platform (MAP)
As you scale, automations become a must. A Marketing Automation Platform helps you handle hundreds of marketing tasks and automations from email flows, personalized advertising, and re-engagement campaigns.
HubSpot
"HubSpot is consumer-grade tech for enterprise companies. We chose it because we knew it would be easy to learn, and we could scale it with the new acquisitions." – Elizabeth Archer, Senior Marketing Operations Manager, Momentive
HubSpot has many products in its suite and marketing automation is one of them. It's free to get started and trial the product before committing to buy.
Compared to other platforms, it's relatively easy to automate a range of marketing activities with HubSpot's workflow tool. Its drag and drop builder is very user friendly for automation workflows like email campaigns. Much like with its CRM, it's not the most customizable MAP, but many smaller companies get by just fine integrating with Zapier or some custom code to bridge the gaps.
Marketo Engage is a product from the well-known Adobe suite. It's an MAP that brings together a range of functionality from marketing automation, account-based marketing (ABM), multi-touch attribution, lead management, and email marketing
It's a robust all-in-one solution for high-growth and enterprise level companies who are trying to automate complex marketing activities.
It's not for the faint of heart (or short-on-budget).
According to Monday's research Marketo's pricing is estimated at anywhere between $960/month to over $7,000/month depending on the size of your database.
Sales Engagement Platform (SEP)
The purpose of a SEP is to help revenue teams streamline lead generation and nurturing activities. These tools enable you to track interactions with prospective customers and optimize your outreach workflows.
Outreach does a good job of consolidating many features into one single tool.
With Outreach sales teams are able to prospect, manage their opportunities, and forecast in one place. It also offers the highest level of control when compared with similar tools. If you need to limit your reps' creativity, or tightly choreograph how they interact with your clients and prospects, Outreach is your best option.
Outreach boasts of "scaling sales excellence with AI." Features like buyer sentiment analysis, A/B testing, sequence insights, and their sales execution report which identifies your most effective sales plays. However, this machine learning feature is one of their lowest scored on G2 reviews.
But users love Outreach's email tracking and sales engagement features as well as their task management & calendar-sales engagement features.
It isn't as user-friendly as other solutions like Salesloft, but that comes with the territory of having a robust feature-set and customization options.
Salesloft is another popular sales engagement tool and is used by some of the world's top companies like IBM and Shopify.
If Outreach is overwhelming or too feature-heavy for you, Salesloft can be a great alternative.
That's not to say that Salesloft is lacking in features.
For a start, Salesloft's Salesforce reporting integration is a major advantage over Outreach. You can push data into Salesforce via a prebuilt Salesforce app that makes robust reporting easy. Outreach, on the other hand, chose to build their reporting in-app instead of creating a package within Salesforce.
Salesloft is also rated above average for its reliable email tracking and workflow management, and one of its key features is that you can create campaigns collaboratively. It also has a great reputation for customer service.
Sales Enablement Tools
A sales enablement tool provides your Sales team with all the resources they need to close more deals. This covers everything from tools, software, information, and even content.
Clearbit helps B2B companies reduce time spent on unqualified prospects. Product-led companies can optimize their sales efforts by enriching product data with additional information about an account to better understand which users are strong PQLs or PQAs.
You can leverage Clearbit to find out how many employees a certain company has, or when they last had a round of funding, among other data points. The big bonus to your Sales team is that they can spend more time targeting accounts most likely to benefit from a sales-assisted upgrade.
The B2B database of Clearbit is smaller than that of competitors like Zoominfo, but the company claims this is because they have a stricter verification process for their data.
"The depth and breadth of ZoomInfo's database has enabled us to prospect better accounts and bring in larger deals. In fact, since bringing on ZoomInfo the average company size we're closing has grown by 2.5x." – Josh Stern, Senior Sales Operations Manager at Hotel Engine.
Zoominfo is one of the leaders in Sales enablement and is trusted by companies like Snowflake and PayPal. Its huge B2B database is unrivaled. It boasts of having "the largest B2B contact database of 65M+ direct dial phone numbers and 150M+verified email addresses."
According to G2, Zoominfo generally targets companies in the mid-market bracket, whereas Clearbit might be a better option for smaller companies.
Product Analytics Tool
A non-negotiable for any PLG company and the key difference between a traditional sales-led stack and a PLG one. A product analytics tool usually doubles up as a lead scoring tool to help companies turn product usage data into pipeline and streamline their PLS motion.
Mixpanel for Product Analytics
With its robust tracking and analytics capabilities, Mixpanel allows you to understand user behavior, optimize your product offerings, and drive growth.
One key feature of Mixpanel is its event tracking functionality. You can define and track custom events, such as user actions, feature usage, and conversion events, to capture granular data about user behavior. This makes it possible for you to analyze user flows, identify bottlenecks, and make data-driven decisions to improve their product experience.
Another great feature offered by Mixpanel is cohort analysis, allowing you to segment your user base based on specific characteristics or behaviors. This helps identify user segments with high retention rates or conversion rates, so you can focus on those segments and create custom strategies to support them.
Lead Scoring Tool
Madkudu for Lead Scoring
When your company's lead volume outgrows the capacity of your sales team, consider leaning on a reliable vendor like Madkudu to create a lead scoring system. Madkudu analyzes your product, marketing, and sales data to uncover the best PQLs and customer expansion opportunities for your Revenue team.
The most successful lead scoring and PQL definitions come from the data itself, not intuition. Not that your intuition is wrong— but it is more likely to miss key opportunities.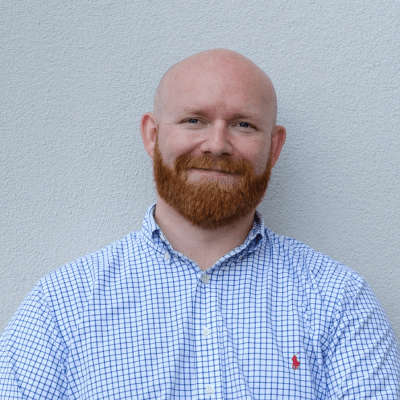 "When I first started at DocSend, I spoke with people across product, sales, and marketing to understand how everyone thought about which leads were most likely to convert. Most of the opinions overlapped. I could've distilled what I learned into a lead score, and it would have worked ok. But I also would have missed some big opportunities. 

I found this out when we brought Madkudu in as a lead scoring vendor. The first step in their process was to run a historical analysis on years' worth of leads to find out which people are most likely to buy from sales. They used all of our data (behavioral data from our product, CRM data, etc.) along with over 100 additional data points they pulled in from various external sources (company revenue, tech stack, size, and more).

There were a handful of interesting lessons nobody expected. The one that always stuck out to me was that companies that use Outlook for email were nearly 2x as likely to buy from our sales team as companies that used Google." –
Sales Automation Tool
Groundswell is a tool that deserves its own category. As well as being a product analytics tool we'd also categorize it as a PLS automation tool.
Groundswell brings product usage data from Segment or your data warehouse into Salesforce and Slack and automates your team's sales activities.
Groundswell maximizes the efficiency of your PLS process by:
Accurately targeting your most engaged accounts to assist with upgrades (both automated and sales-assisted)
Identifying your most at-risk accounts to decrease churn
Upgrading your Salesforce reports by enriching them with product data
Automating admin tasks so your Sales team are working more efficiently
Integrating with your current stack: Slack, Outreach, Salesloft, Salesforce, Snowflake, HubSpot, and many more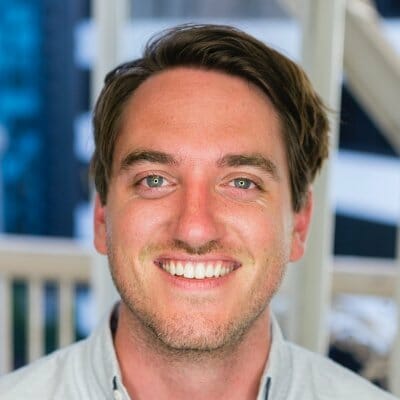 "Instead of creating a task telling a sales rep to do a certain thing, the software or workflow you use can just do it on their behalf."

Steal this Stack: The MVP Product-Led Growth Stack
A solid PLS stack increases seller value by removing grunt work. If you're feeling overwhelmed by the options above, use this as your MVP stack.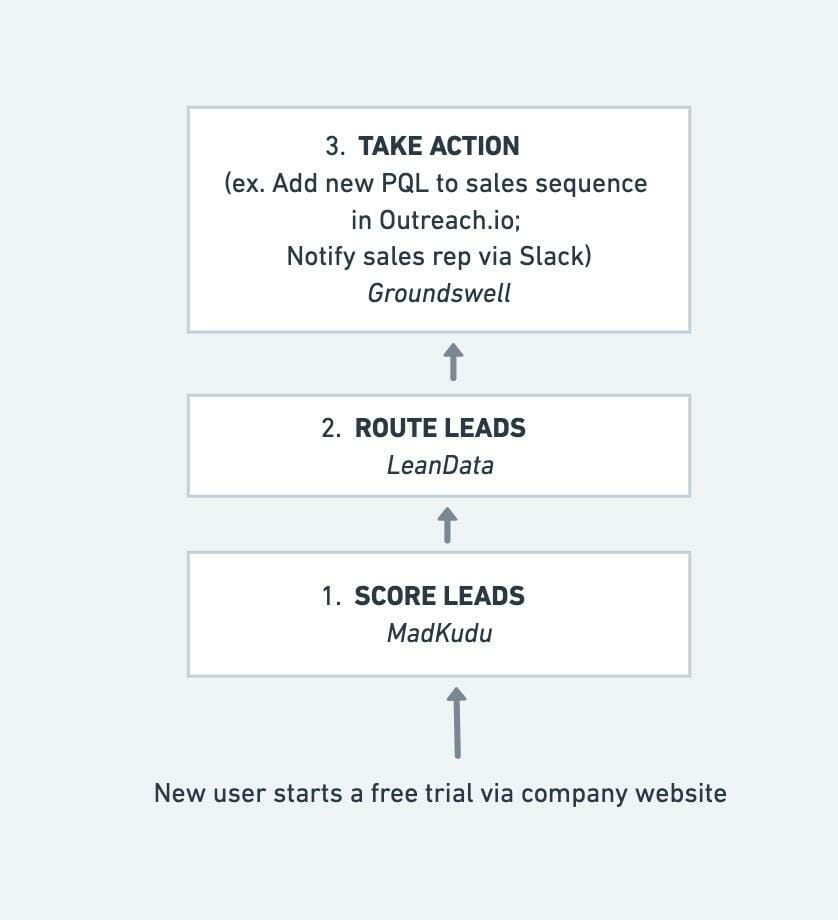 New user starts a free trial via company website
Score the leads with MadKudu
Route leads via LeanData
Take action (e.g. add a new PQL to a sales sequence on Outreach.io; notify a sales rep via Slack)
Who Owns Your PLG Growth Stack?
We often hear people asking who should "own" the PLG stack and, like most things, the answer depends.
Generally speaking there are 3 phases of ownership depending on the size of your company.
Phase 1: Early-Stage Startup
If you're a smaller company, then your engineering team will own all of this, usually because early-stage startups don't yet have a dedicated product team.
Phase 2: SME
As your company grows, your stack develops a level of complexity at which you need a central owner – usually Product or RevOps. At most mid-sized companies there is at least a partnership between Product and RevOps.
Phase 3: Enterprise / Scaling
When your company reaches a certain growth threshold and you start to handle mountains of data, it's time to have a dedicated team or committee whose job it is to maintain a birds-eye view of all these systems.
This team should bridge your other teams and provide some central source of truth for all your data. Failing to do so means your teams all begin to row in slightly different directions as data becomes more siloed.
Take a step back and really assess where you're going because no tool is a magic pill. A tool is only as strong as the goals behind it.
If you're clear on your end-goal, then you're ready for these systems.
As RevOps consultants we help our clients get clear on their goals and create the roadmaps to get them there.
If you're unclear about how to maximize your pipeline by streamlining your systems, reach out for a free consultation.
Next Steps

Contact Us
We help our clients solve RevOps problems every day. Let's get your PLG stack set up for success.

Check our Pricing
Not got the budget for your own in-house RevOps team? We provide flat-rate pricing and don't lock our clients into long-term contracts. Pay as long as you need us.

More from our PLG Series
10 PLG Metrics You Can't Afford to Ignore