Growth-stage companies often look to outside contractors and agencies to fill the gaps in their sales and marketing operations. This 'hybrid' model for rounding out an operations team is an attractive option when you don't have the budget to hire a qualified resource full-time, you don't have the project load to justify a full-time employee, or you're just in too much of a hurry.
The benefits of working with an agency as a bridge to a qualified sales and marketing operations team are huge when done correctly.
The problem is—not all contractors and agencies are created equal. The barrier to calling yourself an agency is unregulated and low.
Let's get into the biggest red flags to look for when shopping around for an agency to support your operations, plus the benefits of a hybrid model when you find the right partner.
What exactly does a 'hybrid model' operations team look like?
The hybrid agency model allows growth-stage companies to tap into a team of qualified ops experts before they're ready to hire in-house.
Most startups or recently-funded companies eventually hit an operational wall where doing things the old way doesn't work anymore. It could be manual data entry, focusing on burning fires instead of growth, needing to add operational rigor to a new sales process, implementing a new CRM, or growing your sales team. They realize they need operational help, fast.
A RevOps/sales and marketing operations agency can be a cost-effective alternative that gives companies access to a team of experts with diverse skills for less than the cost of a single qualified full-time hire. This hybrid model can help organizations achieve an ideal balance between cost, project load, and expertise.
The problem with RevOps agencies
The hybrid model sounds like a dream, right?
Without a doubt, this model can work exceptionally well for growth-stage companies that need access to a wide range of skills on a limited budget.
But, there can be an ick factor working with agencies that comes from historically dishonest practices.
As you shop around for the right agency partner, look out for these hidden gotchas that often get swept under the rug:
Outsourcing on the sly
Picture it: Agency leadership sells you on their services and team. During sales calls, it feels like they really 'get' your company and what it needs. Everyone's excited, and you sign the contract.
Come to find out, the people hired to work on your projects are as green as can be. They aren't full-time agency employees but contractors brought on to do the wrench work under minimal guidance. They weren't on any of the initial discovery calls, they don't understand your overarching goals, and they aren't strategic thinkers who can challenge requirements in the best interest of your company. In fact, they have little interest in your company or its success. You're just another company and another paycheck.
What to look for instead: As you start building a list of potential agency partners, look for ones that work exclusively with in-house teams. This way, you won't have unvetted contractors in charge of your revenue-generating systems.
The agency also has more skin in the game.
Are you just another company and another paycheck to your revenue operations company? Here's how to find out
Rigid SOWs
Few things make less sense than imposing a rigid SOW on top of the dynamic needs of a growth-stage company. Of course, agencies need to define the project scope so they know what resources they need and what to charge your company. But how much does anyone really know about the work entailed before starting a project? Raise your hand if you've ever been surprised by the challenges you've found once you dove in. 🙋
What to look for instead: Flexibility! Realistic expectations! In all seriousness, SOWs should address the reality that it takes time at the beginning of a project to go underneath the hood and diagnose the biggest gaps.
At Iceberg, our contract begins with a 3-month commitment. We've done enough engagements to know you never really know what's going on until you start. We've found three months is the minimum amount of time needed to make informed decisions about where to focus first, how to solve the problems, and execute. After 3 months, clients transition to a month-to-month commitment, reflecting the flexibility they need to adjust budgets and priorities effectively.
Strategy or wrench work, not both
Some agencies specialize in strategy. They'll give you the roadmap but leave you to execute. Others will act as glorified order takers, configuring exactly what you ask for without any strategic guidance. In a vast number of cases, growth-stage companies need a combination of both strategy and execution. The strategy element is important because whatever you implement today will no doubt impact your operations in the future. The aftershocks from bad decisions affect smaller operations engines on a deeper level than more mature operations at a large company.
What to look for instead: Consider agencies that provide both strategy and execution. You want a team of experts who can visualize the effects of single tactical decisions in the broader context of your organization's operational health.
Secret benefit of the hybrid model (according to one of our clients)
At Iceberg, we love when our clients graduate from our services. It means they've raised enough money or matured to the point where they can hire their own qualified resources. We're not worried about you outgrowing our services. Our services are designed to get you to that point as fast as possible!
One of our clients recently shared that working with Iceberg helped them take their time searching for the right operations resource. With Iceberg handling their operations, they weren't rushed or pressured to settle for a less-than-ideal fit. In their words, they were able 'to be more selective.'
Solid documentation is crucial to getting the most out of the hybrid agency model. Iceberg not only gives clients meticulous documentation on the work we do, but we also provide detailed results of audits we conduct at the beginning of an engagement. This leaves a clear trail of breadcrumbs between where we started, what was done, and why. Plus it allows teams to operate successfully when Iceberg's engagement ends.
We like to call ourselves the 'anti-agency' agency because we've earned the trust of growth-stage B2B companies by keeping our team exclusively in-house, offering flexible contracts, and stacking our team with both strategists and skilled practitioners.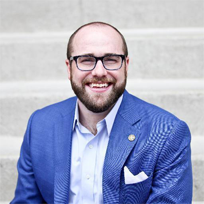 We modernized our own operations and were still able to hire for strategic positions in user design and customer support. Plus, I had more time to focus on active deals and alliances activity, which is a substantial portion of our revenue.
The Revenue Operations and Sales Development Partnership
Listen to Iceberg's founder Taft Love talk more about how the hybrid model helps growth-stage companies hit their revenue goals on Ray Rike's podcast, Metrics that Measure Up.
Invest in RevOps Help Today
Our team of in-house specialists takes care of your entire revenue funnel to fix broken process and clean-up your data so you can accurately forecast and start relying on data to drive strategy.
Get in touch with David, our Head of Sales to find out if we're a good fit to help you.
Keep reading and improving your RevOps knowledge
Growing SaaS companies who've received Series A or Series B funding are only just beginning to systemize how they'll scale, manage, and predict growth. As you start mapping out the future of your sales and marketing operations, you'll encounter different advantages, challenges, and priorities than organizations with more financial resources and diverse skillsets. Setting the…